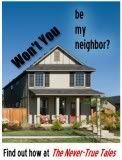 Happy Friday, readers! I have another treat for you today–meet Rebecca! Rebecca blogs at Altared Spaces, and her blog is a wonderful mixture of wonder, whimsy and reflections on motherhood.  Whenever I click over there, I feel like I've found a safe haven–a quiet corner to rest my soul in for a while. Enjoy her!
If you want to meet more amazing, neighborly people, click on over to visit Amy at The Never-True Tales!
*****
I am grateful for this one-way street sign.  It reminds me of a conversation I had with my daughter. As we talked, I was able to say "Yes," to the kind of mother I truly want to be; the one-way mother of nurturance, assurance and solid ground.
I am not always this mother. Sometimes I am the mother who looks to receive instead of give: did I do that right? Am I making the right choices? Do you love me? Is my career impressive enough for you to tell your friends about me? Am I balancing work and family well enough?
All these questions leak out at awkward times. Our family will be at a dinner party and I'll use my child's experiences to tell a story about myself; stealing their life to draw attention to mine.
It makes me cringe.
I know I am not alone. I've watched children as their faces brace for the inevitable story their mother or father is about to tell. The story gets a laugh and the child rolls their eyes or shrinks into the corner, smaller.
It is exhausting and invisible work to be a parent. I'm certain this is where these party moments come from. We ache to be seen: I'm doing this really difficult thing here; could someone please give me the gold star I deserve?
The conversation with my daughter happened in the kitchen. I was doing dishes. She had just finished reading a novel. The book had affected her and she emerged from her room dazed from the inky pages that leave an imprint long past when the cover gets shut.
I don't always recognize my mommy opportunities. When I make lists of goals for the week, which is about half the time, I usually have something on there like, "Stay open to kid moments," because I learned a long time ago that I can't schedule quality time with my kids. They hold that day-planner.
My girl began to pour out the tale from the book. A mother died young, just after she'd had a baby. But she had time to leave her baby letters. As the baby girl grew she unfolded the letters to read what her mother had written. What struck my kid was that, at each stage of the young girl's life, this mother knew exactly what it felt like to be a girl.
This fictional mother had remembered how it felt to be eight and dream of painting your walls. And she knew about how difficult teenagers had it. My daughter felt heard by that book. Her life had the big fat stamp of approval.
This was a wonderful and difficult thing to hear my daughter say. I was so happy she felt validated. I know that delicious feeling and I was glad for her to taste it. In the same moment I wondered, had I failed to give that to her? Is that why she tasted it here in this novel?
Then I watched that briefest cringe cross my daughter's face.
I dried my hands.
The number of kid moments that have unfolded in my kitchen after I've dried my hands astounds me. My kids come to my kitchen to talk to me. They pour out their lives while I'm cooking or cleaning up.
I'm able to listen in that unique way that a little industry provides. The mundane in my fingers leaves my brain diverted enough that I have no agenda for their lives. My ears are bigger when I'm in the kitchen.
I put my hands on my daughter's shoulders and offered her my motherhood one-way road sign. "Your job is to live your life. My job is to cheer you on. This is a one-way street. You don't take care of me. I take care of you. It's one of the rare relationships in life that isn't reciprocal."
Tears began to pour out of my daughter's eyes. Eyes that leak tears in moments of intimacy with great reluctance. The cringe was erased.
I hugged her and she melted into me. Then the air had that shimmery feeling. I noticed. This is what love, unconditional love, feels like. I want to offer it with greater frequency.
I can't say how my daughter experienced that moment. We've never talked about it. But it is one of the guideposts for me. I did what I set out to do: I said "Yes" to motherhood. I've drawn upon that moment many times.
I noticed the cringe that signaled I'm making my needs more important than my child's. Fortunately, I was able to undo the something that lingers in the air that motivates those grimaces, eye rolls or shirked shoulders.
I second guess myself in front of my kids instead of being the rock solid adult they need. I interrupt. I shame. These are not my finest hours.
My one-way sign reminds me who I want to be for my children. It stands there declaring that I've managed to do this for them, and promises I can do it again.
My kids were born from love. They are headed in their own direction. I don't need them to define me. I am here to help them find their way.

Do you ever make your children cringe? How do you offer unconditional love? Do you believe parenthood is a one-way street?
***
Author's Note: Thank you, Rebecca, for being here and sharing your words. You always make me think.