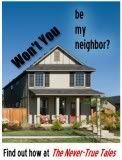 Hi wonderful readers! I'm so proud to feature Justine from Here Where I Have Landed today. Justine's blog is a beautiful blend of motherhood, culture, joy and wisdom. When she agreed to be featured on Neighbor Friday, I was more than thrilled. I know you'll adore her. She's going to make you hungry today, though, so be warned!
For more neighborly awesomeness, head on over to The-Never-True-Tales! We'd love to have you join in the mischief!
And now, please welcome my lovely friend Justine!
In case you're wondering, no, I'm not about to go KitchWitch on you. I couldn't possibly because I don't have a recipe here. Or the snark and talent required in weaving together stories from the past with recipes that leave you salivating like a St Bernard in Arizona. What you see here is the reason why I've been in a dilemma this past week.
You see, my family is growing. With the future addition of our second baby and my mom, we are in a frantic search for a place that could accommodate all of us. Finding an ideal place for five humans, three pets and numerous electronic gadgets (because of My Guy the E-Geek) under one roof within our (limited) budget is proving to be harder than we thought. When a perfectly sized home presents itself, it's usually at a location further from the heart of the action. And by action I don't mean downtown Chicago. I mean where we do our grocery shopping, take-outs and the majority of our dining. Yes, the exciting stuff.
As a Chinese-Indian from Malaysia who came to the States 16 years ago, the best way for me to continue that connection with my place of birth and my cultural heritage is through food. When I'm homesick, I throw together a meal I remember from childhood, and voila, it instantly transports me back home. It also makes my belly satiated, my soul sing and my own little girl connected to her cultural heritage. Not two, not three, but four birds with one stone. Not bad for an hour's work in the kitchen.
Right now we live five minutes away from two of my favorite grocery stores – one Southeast Asian/Chinese, one Indian – that provide me with products that don't often appear in regular supermarkets. Stuff like Yu Choy, bitter melon, dried anchovies, preserved mustard greens, Szechuan peppercorns, rasam powder, toor dal, etc. And if I do find them, they're not in the price range I like. I'm also a bargain hunting freak, so when I see oyster sauce for $4.00 at the store down the street, I like feeling smug about the one I got for $1.39 at the Asian grocery store. Hah! Suckers!
And because I tend to look for and stock up on authentic Asian, Mexican, Greek, or Eastern European items, I go to different ethnic stores to procure them for their affordability. Sure I could order some of those items online or get them from Whole Foods, but that also means bye bye kids' college fund.
So, when considering a location of our next home, it hurts my heart (and belly) to think that my favorite grocers may not be as convenient. My daughter's favorite takeout foods like beef pho and wonton soup from the Vietnamese and Chinese places by us, where whole roasted ducks hang by their feet in the display window, will no longer be just a hop and a skip away. We could live closer to these spots but that means we'll have to suffer a smaller place; it will only be a matter of time before we drive each other crazy. Or we could move away from soul food central and live comfortably, perhaps even peacefully, in a larger space. Decision. Decisions.
What would you do? No, seriously, what would you do? Thinking about this – weighing the pros and cons and still not being able to decide – has been the bane of my existence for the past few days. I'm hoping someone would give me the answer already. Pretty please?
While you are contemplating what I should do with my life, here's a glimpse of one of my regular weeknight meals, just to give you an idea. Come on, it's Kitch's blog – I can't not end with some kind of food item, although, unlike her, I don't have a recipe for you because I rarely use one myself. Where I'm from, we learn by watching our mom, aunts or grandmothers in the kitchen and hope for the best that our version comes out fine.
In this case, these stir-fried noodles are ubiquitous in morning markets in Malaysia. I was one of those oddball kids who actually enjoyed accompanying my mom to the market. That was the beginning of my lifetime love affair with fresh produce. My Guy gets excited over the latest Android tablet; I can hardly contain myself when I see fresh, vibrant hues of green, red and yellow stacked precariously at grocery stores or especially at farmers' markets.
The markets in Malaysia also offer breakfast items to tame tummies wild with anticipation from all that meal planning and dreaming, and these noodles happen to be one of them. Yes, rice and noodles appear in every meal in our culture. Since I've never watched the food peddlers make this particular dish, I've had to mostly guess at the flavors.
The end result? The dish turned out nothing like what I remembered. But the flavors, aroma and texture did take me back…waaaaay back. An invisible but surprisingly strong string that tethers me to my past. Sometimes, that's good enough for me.
And hence, the dilemma.
All of the ingredients, clockwise: Rice stick noodles, toasted sesame oil, oyster sauce, thin soy sauce, Chinese sausage, onion, garlic, egg, shitake mushrooms and leafy greens called choy sum. All easily found at the Asian grocer, and it didn't even break my bank.
The final product, garnished with fried shallots and eaten with my favorite hot sauce on the side, both staples at my house.
***
Justine, you are teasing me with those photos–Ethnic dishes like yours are KitchWitch crack. Please, if you ever perfect the recipe, I NEED to have it, Sam I Am. Thanks for sharing my space today–you're the best.
And hey, readers, if you have any ideas on a solution for Justine's dilemma, we'd love to hear it!