Hi Readers! If you've never heard of the lovely Won't You Be My Neighbor program, created by Amy at The Never-True Tales, I suggest you pop over and pay her a visit! And if you're so inclined, why don't you join us? Because it's such fun, and dangit, wouldn't it be great if we could, in real life, choose our neighbors?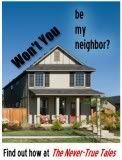 I'd love that. I'd certainly get rid of the guy who lets his Schnauzer relieve himself on my lawn. That guy's an asshat.
One person I'd welcome to my hood, with open arms, would be Mary Lee. I love her irreverence, her sly wit, and her energy. Plus, she posts about poop, evil squirrels, and butt-sniffing dogs. If you haven't been to Merrilymarylee's  Weblog, you should. You'll love her.  And, you lucky devils, I'm sharing her with you today! Please welcome her–I'm honored to have her in my space today.
***
Never did I imagine I'd be sitting in the catbird seat here in the Witch's kitchen.   She's such a dear to invite me.  I'm pretty sure she didn't do so for my cooking talents,  so if you came in search of a recipe, we're both cooked.
Being older than the charming KW, we write about different subjects.  Generally, I rattle on about the pithy subjects germane to my own world, like constipation and dog poots.  I'll restrain myself today.   My  goal is to go through life without seeing one of my children talking to Dr. Phil about being raised by a couple of num-nuts.  I can talk about that crap on my own blog–they don't read it.   Here, I'll tread carefully.
I love the internet.  The blog world allows me to visit really nice people without putting on a bra or even changing  out of my pajamas.  I call them "lounging outfits" with a straight face so that I can wear them long after my husband has emerged from the bedroom,  showered, shaved, and dressed.   He might be wearing a college sweatshirt or a cashmere sweater.   I'm in elastic-waisted cotton knit jammies.
He has every closet full of still-in-perfect-condition clothing that he is finally culling.  I need only one closet.  My wardrobe is scant because if I don't outgrow something,  I accidentally shrink it.  Every item seems to bear bleach spots or food stains.  His clothes have stories of where he's been; mine bear menus of what I've eaten.
Periodically, out of the blue, he will ask about some article of clothing I wore thirty or forty years ago.
"Where's that little tennis skirt you used to wear?"
Huh?  Why in the world would he ask that?  Neither us has played tennis in decades.  I haven't even owned a tennis racket in over 30 years and the one I had looked brand new from underuse.  Is he thinking that I just stuck the skirt in the wrong drawer?  Even if I still owned it, I'd have to wear it as a collar.   The Army Corp of engineers couldn't get it over these hips.  Had I known he was going to ask 30 years later, I'd have had the darned thing bronzed.
Maddeningly but endearingly, my husband really believes that  if I lost a few pounds, I could still slip into that skirt… or my slinky black number… or zip the studded leather boots I wore the first time we met.  He still waxes eloquently about those boots. (Now those, I saved.   My magic get-a-husband leather boots are, alas, now several sizes too small, but if anything deserves bronzing…!)
We are in different worlds when it comes to clothing.   He keeps them because he never outgrows them.  He still wears some sweaters he had before we married.  Seams don't pull on his shirts, pants don't get rump-sprung.   An occasional  hole in a sock is about as destructive as he gets.
When we go to the beach he sometimes wears a still unstained  t-shirt that says Martha for Town Council. My friend Martha won that election–in 1996.  When I told her (now retired)  that he was still wearing that  shirt, she said she thought she had a few shirts left and he could have one, but not to get her any write-in votes.  It's a small town and you never know.
She said that I should tell him, "If elected, I will not serve."
That's how I feel about tennis.  Even if outfitted, I would not serve.
Or volley.
***
Author's Note: Isn't she great? I knew you'd get a kick out of her! And hey, I'll be happy to keep Neighbor Friday going for as long as people will have me, so if you'd like to guest post here, shoot me a line! I'd love it.