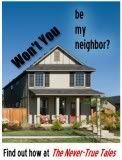 Happy Friday, boys and girls!  We've got several rings open at the Freakshow Circus today, so put on your favorite clown shoes, grab a beverage and stay awhile!
First off, I'm honored to be blabbing and snarking at Kelly's place and at Rudri's place today.  If y'all get a minute, we'd love to have you hop on over.
But now, you're in for the delightful Jane!
I'm so grateful to have found Jane. She blogs over at TheyCallMeJane and she is one funny lady. She's also smart, and irreverent, and…a full-blown, pie-eyed optimist.
I know.
I don't know why we like each other, either.
How two women can be so opposite and yet so similar is one of life's mysteries, but I'm thrilled that she agreed to be my neighbor today.
Fair Warning: This post is full of love and nice.  I am highly uncomfortable with love and nice, so I told Jane that I wasn't going to post it. I asked her to submit something else. She (nicely) told me to stuff it.
That Jane has backbone.
So. This Cold Prickly is moving over to give the Warm Fuzzy her way.  I'll be hacking up hairballs the entire day, but I'm going to give her her way. I like her that much.
Enjoy.
***
An Ode To TKW: Celebrating The Memories She Stirs Up
When TKW asked me to guest spot on her site of course, I was honored. I love TKW. She's my sista from another mista. Our lives, our choices, our likes and dislikes? We're two peas in a pod. I'd do anything for her. And if she needs a break on a Friday, I'm here to help.
Oh, who am I kidding? I'm tickled to be seen somewhere else. It's like I'm on vacation, exploring new territory. A little end of the week adventure.
What I love about coming here, as I'm sure many of you will agree, is TKW's gift of gab and her ability to conjure up memories inside ourselves that have been sitting on a dusty shelf. Her wit, her reverence, her vulnerability. She mixes and stirs and combines and adds a little spice. And voila! You've been transported into a part of her world that becomes yours.
TKW reminds you of your grandmother's spaghetti sauce.
The one you craved and salivated over. You beg your grandmother for the recipe and your mother callously remarks, "It's just a can of tomato sauce and paste. She doesn't even season it." You witness the hurt in your grandmother's eyes but then see her bristle. She quickly retorts,  "Yes, but it's the brand of tomato paste that makes it so good" and she turns to grab a can from the cupboard. You learn how to deal with your mother's cutting remarks. You witness a quick recovery from hurt to confidence. You see, firsthand, how to brush aside a cruel remark and gain firm footing again. But alas, no matter how many cans of tomato sauce and Contadina tomato paste you open, you're never able to duplicate her sauce. But no matter. The lesson is already learned.
TKW takes you back to the middle school Home Ec room.
Sitting there in your tiny kitchen replica. Recipe in hand. Measuring ingredients, praying you don't screw it up. Oatmeal, powdered chocolate, butter. Using a hot stove without someone hovering over you. Feeling so grown up. Cooking for the very time, on your own. No-Bake-Cookies. And then being sent into a fit of giggles when someone whispers their lesser known moniker, "cow pies."
TKW shares her up-bringing, her food celebration memories.
And you're transported back to your other grandmother's house. Remembering Easter weekends with egg hunts and ham. Mashed potato swimming pools with gravy spilling over the edge. You set up broccoli trees along the edge of your plate. Your grandmother smiles and encourages your imagination, asking what you think the sliced carrots dripping with butter and brown sugar represent. And still, years after she is gone, you crave her lemon meringue pie, banana pudding with crushed Nilla wafers, Golbki with her signature ingredient (tomato soup) for the sauce.
I am not an accomplished chef. I can not match TKW's culinary expertise. I try. I copy her recipes. I recreate memories in my own kitchen.
But that's not why I come here. I come here because every recipe has a story. And TKW can sure tell a story.
When she shares her story, I'm reminded of my own. And I realize how similar and different we are. I read the comments at the end of her posts and I find more people, just like me and unlike me – with more stories to share.
TKW brings us all a little bit closer together. Through food, through laughter and sometimes through tears. She encourages me to grow and learn and experience. To search inside myself for a stronger, more authentic self.
And I love her for it.
***
…sniffle, hairball hack…thank you, Jane. I love you, too. Actually, I love all of you who come here and read and support and offer a little bit of yourselves in your comments. You are diamonds among my rough.

Okay. Enough nice. I need to go run over a bunny with my SUV now.
For more Neighbor fun, please click over to Amy's site–it's a great time, and so many great writers hang out over there!